Microsoft is pushing an OTA to enable 4G on select Lumia device in India Comments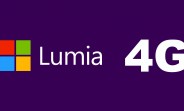 D
I have been getting notification for update since past four months( probably Denim update) but i m not able to download it due to lack of wifi connectivity...is there anyway to get the update on 3G??
S11511
Any such trick to activate 4G on note 3 (N9005)?
It has LTE capabilities but doesnt show it in network modes.