WSJ: Audi, BMW, and Daimler agree to buy Nokia's HERE mapping business for around $2.7 billion Comments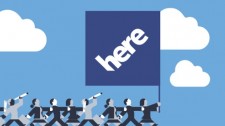 D
Dinesh, 23 Jul 2015this is definately nokia connecting people2 thumbs up !
O
Anonymous, 22 Jul 2015i hope this will not affect HERE map on android. its best offline mappingI agree with you.
D
Buy for around $7 Billion and sell for $2.7 Billion, only Nokia!
S31354
Terrible news. And Nokia really sucks at selling, selling it to such a consortium for way less then what you paid in the first place, yes ladies and gents this is the amazing Nokia. No wonder they are barely afloat.
D
Yogesh, 22 Jul 2015If everything is sold out, what will Nokia do next?Nokia still mskes most of the hardware need for cellphone infrastructure to work wolrdwide. Also they still owns lots of patents
D
I think its a great move, al current navi in cars are usless. Hopefully this will change that!

7
if it happened, lets hope it won't be exclusive for cars only. It should always be available for mobile phones.