Amazon signs up Clarkson, Hammond, and May for exclusive web series, coming in 2016 Comments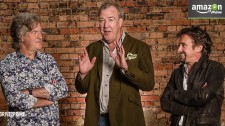 g
Pars, 01 Aug 2015Top gear is popular in Iran & happy to see them againgo to hill you are your country
M2616300
Good, although with Hamster's new goatee his facial expressions won't be so fun to watch any more.
?
Amazon trying to cash in on the following. Unfortunately this will lose a lot of it. Many are older folk that don't "do technology", others that already have streaming services like Netflix won't switch and many UK taxpayers are still angry with Amazon regarding unpaid tax bills . . . .
f
i hope he has leaned his lesson...his yoboish attitude didnt pay?i would like to question his educational achievement?