Oppo details the new ColorOS 2.1.3i with air gestures, eye protection Comments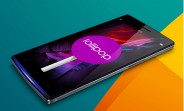 D
Color OS always had Air Gestures built in Chinese version of OS -_- there`s plenty of versions
?
Pretty average update. ColorOS has always been behind the curve. They just don't have the R&D budget Xiaomi, Huawei, Samsung and Google have.
Y
Android for life!, 04 Aug 2015Chinese is always copying iOS UI. Oppo/Lenovo/Xiaomi/Huawei........ Recently, toilet paper makers too have started copying apple. Apple invented life you know
?
So, basically the new features are the same as the one introduced in galaxy s4. Galaxy s4 had air gesture, smart stay, eye tracking scroll, and power saving mode for years. Eye protection mode is just ridiculous. Why not just tell them to rest or wear sunglasses. Like I said, ridiculous.
A
Chinese is always copying iOS UI.

Oppo/Lenovo/Xiaomi/Huawei........

j
So, this update will improve battery life? Because as we know at least Find 7 doesnt have great battery life.