Samsung recounts the history of the pen, says S Pen is 'perhaps the most advanced ever' Comments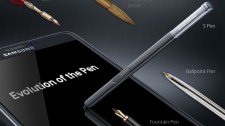 D
Earlier this year Samsung voiced intention to reduce their device portfolio by 30%, they have since increased the their Double flagship a year run by 100% it could be more if the third device recently shown on marketing invite for next week is another phone and not a tablet.

Well maybe the reduction is happening at the lower end? The A series has also grown into phones and tablets, is there going to be another Galaxy Alpha on top of A3, A5, A7 and A8 smartphones. We shall see.
D
I think it is true... I really impress of S pen functionally and the promising of this.. it is useful~~
?
If the Note 5 is "its upcoming flagship", then what is the Galaxy S6 (and Galaxy S6 Edge and Galaxy S6 Edge Plus)? Is a flagship not a single premium device rather than four?

/confused