Week 49 in review: Nokia C1 renders and a Samsung Galaxy A-series overhaul Comments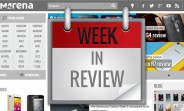 ?
Nokia c1 will come on January 1st weak plz ready all of u to buy our loveble c1
t
Google MUST make their OS lighter rather than increasing the ram to 4GB.
r
I think that google must optimize their os to make it easier to run on 512 mb of ram like WP for example. That will fix alot of problems rather than making ram more with lags which is annoying. Thanks.