AT&T is expanding its rugged device catalog with two Kyocera handsets Comments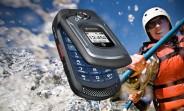 The 1st one seems great. But 5,7?
It's too big. It should had been 5 inches, tops.

The extra loud stereo speakers are very tempting though.
D
$270 for a flip phone? Are you crazy?
A
Travolta, 06 Jan 2016There is nothing cool about the clamshellphoneYeah and there's nothing interesting about you or your tastes.
D
I would buy the clam shell for my mom...I'm afraid that if i purchase her a normal big screen one it will brake in her big purse.
T
There is nothing cool about the clamshellphone
D
the clamshell phone looks cool.