Metal-clad Samsung Chromebook 3 is official, boasts 11 hours of battery life Comments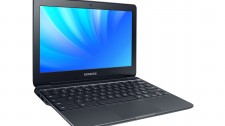 D
Anonymous, 06 Jan 2016Yaaay, 11 hours of NOTHING AT ALL. Chromebooks, please go away already.You must not be following what the market is doing. Chromebooks are fast and cheap and somewhat safer. Many students are buying them and using them in school. They flip open and are instantly on and you can quickly do something while in class and not miss taking notes from the teacher. With full operating system your looking at 2 minutes boot up which by then you will miss your notes and forget what you were searching for and so its great for school and students are buying the crap out of them. People need something quick they flock to the speed of getting thngs done not waiting for 5-10 minutes of bootup times f they need to go somewhere and have kids and a very busy lifestyle. No one leaves their computers running all day so they can search but many do walk in and need to send an email or copy and paste a simple note or picture from the web which is not so easy for some on phones and many people the convenience of a keyboard for typing over a tablet where you get no physical feedback and its much harder and slower and a comparable pc with this kind of speed and simple functionality is not always as cheap. Most people dont do priduction on their laptops anyways and want something lightweight and cheap and these things are perfect not to worry about spilling drinks all over your 1k laptop with all your data stored on them and the list goes on and on. Do a search and learn why almost every brand makes chromebooks and see how they are selling. I think it will be the next laptop or second laptop for many people if you dont want to toss around your main laptop or use it for surfing etc....

K
Love this Samsung Chromebook its very light in my hands it perfect it last very long...
b
There are tablets out there with better specs than this.
Well, at least this comes with a keyboard and will (probably) be cheaper than those tablets.
?
Yaaay, 11 hours of NOTHING AT ALL.

Chromebooks, please go away already.
m
This is TOO heavy netbook, considering it does not include an HDD/SSD. Shame on you SAMSUNG
?
Akinaro, 06 Jan 2016Meh... I have almost 3 years old Acer netbook with dual core atom and 2GB ram, and with windo... moreIve got a 6 month old i7 5500u, 16gb ram, etc. Barely gets 2 hours with the screen brightness at a readable level
A
Meh... I have almost 3 years old Acer netbook with dual core atom and 2GB ram, and with windows I can get almost 10 hours of work with documents/browser. And when I switch to Linux LiteOS, I can get even 12 hours...
And I can also do real work on it instead of playing with chrome OS.
I can even run games like Half life 2 with nice 50fps... not to mention work with media and more complex work like CAD or even video editing... And still I can get more than 7h with such heavy work...

And all that for 190 Euro...