Huawei's Honor 5X is now available in Europe from £169.99 or €209.99 Comments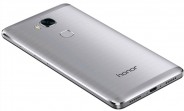 1
Anonymous, 05 Feb 2016Everything looked good until the price part. More than 50 EUR for a Chinese unknown brand phon... morehuawei isn t unknown
?
Everything looked good until the price part. More than 50 EUR for a Chinese unknown brand phone that's running Android? No thanks!
?
Its wxpansys that runs it. Useless. No huawei handsets ever in stock just honor. When i enailed them about when the mate 8 will be in stock they dont know
B
You know, it's no wonder only Apple and Samsung are making anything like decent profits on mobile handsets: this is a very good handset for many people, available for a pittance. And I am just waiting for another 2-3 years, when $350 gets you an all metal uni-body phone with 3GB RAM, a 2K screen, good low light camera and the a few other goodies. It is getting to the stage now where the premium price for top range handsets offers abilities that don't matter / are not able to be appreciated by buyers. I remember a time when if you wanted to make megabucks, getting into the PC business was a meal ticket. Not any more and it has not been that may for over a decade. Seems smartphones may soon be going a similar way...