Skype to pull the plug on its Qik video messaging service next month Comments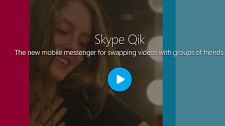 ?
It's tough for new messaging apps to garner people. Because your friends or family will have to migrate. Companies like Skype, Yahoo, ICQ AOL, and BBM slept while Whatsapp ate into their user database. Now its just too late to get people on to a platform even if it is better than whatsapp.
?
Smigo, 23 Feb 2016The market is too saturated with the same apps, while this is good for innovation, most end us... moreThank you the microsoft apologetics team.