Google is working on PlaNet - a neural network for guessing where pictures were taken Comments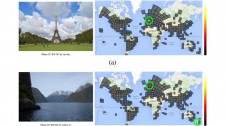 I524
Anonymous, 26 Feb 2016now we can find a hot chicks house easilyNice joke, man! 😁 ;)
?
Google gives out free internet so they don't have to guess anymore!
m14954
Anonymous, 25 Feb 2016Another way to poke nose in private lives of users. I think most ppl will disable this feature... moreyou must know that the minute you buy yourself a smartphone, you don't have a privacy anymore
A62835
Reminds me of my college days when I used to study a bit of 'Image Processing' and 'Artificial Neural Networks'. Unfortunately there was too much computing power involved for the project back then, however for Google, it must be child's play :D

I wouldn't want to imagine how much they currently know about people.
v2204393
Best would be non-censored images as its hard to guess just with style of building...
W
Anonymous, 25 Feb 2016Another way to poke nose in private lives of users. I think most ppl will disable this feature... moreIF you can disable it