OxygenOS 2.2.1 update for the OnePlus 2 brings RAW support to the default camera app Comments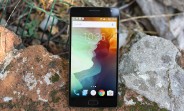 A
There is a lot of scope for improvement for battery life the Android system is consuming alot of battery
D
DEMO, 05 Mar 2016I can only have words of praise at this firm. It's hard to produce quality phones. And to figh... moreWow how much $ are you getting for that PR message post? Am here waiting for marshmallow for my oneplus one.

GSM needs to do something about these company employees posing as normal users.
?
The update is invite-only. If you don't have an invite, you have to wait in line.
D
Good news for hundreds of thousands of users of this phone.
This company, i wish him good luck in the future.
D
It had earlier to make these improvements. But never entered isn't late. The 3 handsets made by this company are excellent. If her had a somewhat smaller price, had higher sales.