Samsung Gear S2 iOS compatibility now said to be coming by month-end Comments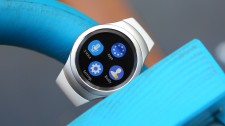 m
Great idea. I do want to connect my S2 to iPhone. When Gear Manager for iPhone?
D
I ROTFL reading this article.
So Samsung made it official that iOS support for Gear S2 smartwatch will be rolled out later this year. Right?
But you took some RUMOR that it will be rolled out in Jan, then another RUMOR that will be at the Apple's event, and now another RUMOR that will be at the end of the month ......and blame Samsung for some 'delay'???? WOW
Bad, bad, bad Samsung. Never keep promises :)
D
I'm a huge fan of apple (iPhones and iPads, not computers) and won't buy the watch till it has 3G/4G capability away from the iPhone. I may buy this watch now that it will have IOS Support.
N
Amazing move from Samsung, it was one the only disadvantage, now everyone will buy the most smart watch... Good strategy from Samsung.