Microsoft is testing Outlook Premium subscription for $3.99 per month Comments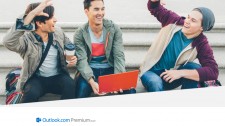 A876364
Five personalized email addresses for 4$ it's actually not that bad. But to be honest 2 max 3 is enough even for person all business, because of you have your own business you probably have web page and post of site providers have option for email service based on your domain and you just stick that address to your proper email.

So they could add option for 2 emails addresses for 1-2$
D
Anonymous, 04 Apr 2016Got a windows 10 laptop for office then realised i need to pay more than 200$ foe the full ver... moreSomeone has make u a fool, b'coz last year when i bought a lenovo laptop, windows 10 was pre-installed @with licence key
D
Microsoft as always, looking for more ways to take our money lol
?
Anonymous, 04 Apr 2016Got a windows 10 laptop for office then realised i need to pay more than 200$ foe the full ver... moreAre you dumb ? you can get business ones or student one for free or 50$ lol.

also, there's something called TORRENT.
?
LibreOffice is free, so there is no reason for anyone to pay anything for a complete office suite!