Apple's new 12-inch MacBook gets torn down, tamper-evident screws found Comments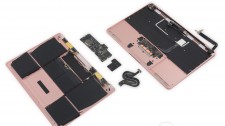 ?
Anonymous, 26 Apr 2016What on earth is 1866MHz RAM?How fast writing/reading the RAM is; Why they do not include the ammount of storage is behond me.
D
this is just like apple: want the latest? get a new apple macbook. when you break it, just buy a new one in a different color... right. idk about all of you but i can say most won´t like the idea of spending extra money knowing accident can and will happen.that´s why i´m not an apple fan. they just care about profits now, no ingenuity now a days. :(
L
Angry Mobile Nerd, 26 Apr 2016What a bunch of cry babies. You want to tinker buy a pc.It is not a point, the things get tested and scored based on certain criteria and repairability score on this mac is 1 out of 10. Many people won't dissemble their Windows laptops either. Why apple fans cannon understand that things should be compared in some kind of measurable way and not just based on biased fanboyistic values. Every time I have this discussion it is always the case that - "oh it doesn't matter that apple stuff is crap by any measurable way, you still must love it, because it has this cute apple logo on it".. this is not the way to compare and value things .. is it?
D
And yet delusional ifans will go like ;omg new apple product and it is so different and better..
The news is that ifans cannot disassemble their beloved unit as weak screws will show the marks.. This is so great..
Omg are there still Idiots buyng this rotten apple products?
D
AnonD-375713, 25 Apr 2016" What's more, the processor, RAM, and flash storage are soldered to the logic board, the batt... morei dont know where you are from mate, but iam from Australia and here it costs 2000 AUD for the lower 256GB model. Iam speechless :-|
?
Apple put themselves up their with quality yet stuff is just glued together. Items priced higher than normal lets say Rolls Royce command that money because it is handbuilt with quality, HAND BUILT with bolts, screws and things stitched together NOT glued cheaply. It is a cop out and cheating way to build things anyone can just glue stuff together. Apples uses very little in cost i.e. only small RAM,GPU,CPU in iPhones yet charges the earth.

That is why they have billions in bank,,,build em cheap price them sky high.
D
" What's more, the processor, RAM, and flash storage are soldered to the logic board, the battery assembly is very solidly glued to the lower case, and the display is fused, having no separate protective glass."

Couple this with the performance found on a Core M processor and it's GPU and you get an iPad running OSX with keyboard. Wonder about the pricing of this.