Google executive: Android One still drawing interest; more devices coming Comments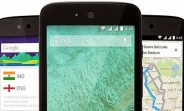 i
Why not put android one in a mid to high specs phone? Most of the phones with android one have low specs.
I would like to experience vanilla android on a phone other than a nexus device though.
S
hey guyz i in my opinion android one should be made with proper SOC's. In addition good display quality such as amoled which is now cheaper to produce nowdays.So as a result it may succeed in a smartphone world as thought.