Specs leak for the two Moto X models coming this year with modular backplates Comments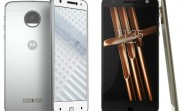 f19730
that bottom bezel is too much, and non of the phones yet have this large bezel also FP sensor is ugly as hell.
P755
too big, modular or not, thin or not its way too big.
I know 5.5 its kind a standard of phablets, but I want a handset which is easily fit in my hand/pocket.
with that big area with the fingerprint reader on the botton and the 5.5" screen, it will be at least 150mm.
D
Muthu, 09 May 2016I wish other OEMs follow the lead of Motorola. Just about right specs, with right price tag. R... moreExactly..
O
Those looking to the future of phone manufacturers, will understand that they must be MODULAR.
w
So god damn ugly! Whoever was responsible for the phone's design and release needs to be run over by a truck.
R22843
Whilst I am dismayed this is what they will look like I am impressed with the Amps idea. It isn't a surprise that Moto/Lenovo have gone a certain distance with the modular idea - seeing as the deal when Lenovo bought Motorola was that they'd get a share of the patents and research from Google (and vice versa).
The specs will cause the on-paper-viewers to be unhappy, since it ONLY has an underclocked 820 and 3/4gb RAM. To me, this isn't a problem since Motorola have always kept to their 'ergonomics and usability is key' ideas. And they're right - to me anyway. In the real world the specs are less meaningful, you won't need as much power as you get from LG or Samsung, or a 2k screen. What people need is a battery that will last the working day. I'm hoping the 'Vector' battery is up to the job. The underclocking should help but it'll need good optimization on the software.
I am not a huge fan of the thin phones, I always liked the arched back of the previous Moto Xs, it sat in the hand very nicely. Thin phones with big screens are easier to drop.
From the article I would choose the 'Vertex' version. Bigger battery will always win over specs that won't get used. To me.

D
Adoption of magnetic back plates... still no Adoption of Magnetic charging in smartphone -_-