Google says you'll soon be able to use Android Auto without a compatible car Comments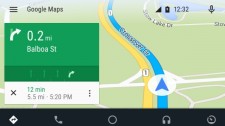 A
Did I read, this feature works without smartphone data? if so, very nice move.
N
And what's the point of this? The initial point was for you to see the Android Auto interface on your car's multimedia screen. Why would i want to see maps and stuff on my phone's screen, i can do to that for ages and stick it on the windscreen. Pointless!!
S38399
Hopefully this is available for all cars by the time I purchase my next car.
D
Finally! This is something logical, expected unacceptable as complete and practical system becomes dependent on the multimedia assemblers systems that charge dearly for it and never work right. Currently, no multimedia system cars have the same quality and practicality of Android Auto. Can not wait for the release of the service. Currently I use the Auto Mate application that is similar but not equal.