Microsoft promo shaves $150 off the prices of the Surface Pro 4 and Surface Book Comments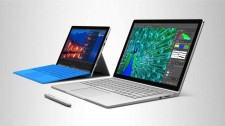 ?
kimera, 28 May 2016the acer Switch Alpha 12 is coming, apple & Microsoft should panicit looks thats not in the same class
A162797
I keep forgetting these are actually really expensive tablets lol yes I know it runs genuine Windows but still.
N608102
More an ornament pieces than for real utility value with its hefty price tag! Let it continue to decorate the glass shelves!
S
Shayanre, 28 May 2016other than the battery which is still decent around 7 or 8 hours this machine works perfect..w... moreExcepts the scratching problem of the surface book and the noise of the fans under heavy load
S1311
Dovice, 27 May 2016I sense a USB-C equipped SP5 in the not to distant future. Hopefully fixes the eternal issues ... moreother than the battery which is still decent around 7 or 8 hours this machine works perfect..windows is a software they constantly update it what do you expect those were never hardware problems. In feb update all the problems were gone