Samsung offers free Gear VR headset for everyone who buys a Galaxy smartphone before June 19 Comments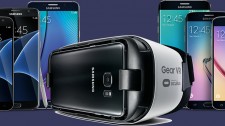 D
I bought a s7 edge with the gear VR promotion. Waited 12 weeks and never received it. I called them and they said it had already been shipped, but I never received it. So after many So after a few more weeks and many calls, they sent me this email.

Hello Christopher,
Thank you for the inquiry. If you did not receive your shipment we need a document from you. The document we need is an affidavit or similar sworn statement in which you affirm that you did not receive the Gear VR which was sent to you for the Samsung Promotion, under penalty of perjury. This must be both signed and notarized.
Once we receive this document we can process a new shipment. If you have any questions please let us know.

So they are basically calling me a liar. It seems as if they are just looking for a reason to not keep up their end of the promotion. Do yourself a favor and buy one of the many BETTER other brands of VR headsets.
L
Finally.. that sounds reasonable (previous 50% off was non-sense). Poor HTC giving USB-C cable (worth $3)...
?
Anonymous, 02 Jun 2016easy way to get rid unsold things ...yeh, all you have to do is become the worlds no1 smart phone maker.
J
[deleted post]You must come from the early ice age. VR is the future and Gear VR is the single best mobile VR accessory out there.
l1834561
Would probably never buy any vr headset but if it's a bundle then why not?
?
[deleted post]I want free 4K Samsung TV, Samsung refridgerator, Samsung vacuum cleaner and all the other house appliances.
m3343856
Jhon998, 01 Jun 2016So they want to make a little money before Note 7If by little you mean a couple of million dollars, then yes!
D
Anonymous, 01 Jun 2016No thanks, but no thanks. I want USB-C and Daydream compatibility. "Daydream compatibility"
I think you should blame Google for this.