Google's Search app could soon let you directly call, text, and email your Google Contacts Comments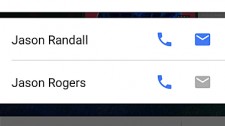 T558
Thanks to the uninstall option in MIUI ! Uninstalled"Google Now"
B
iOS has had this feature for ages in Spotlight. Search a name and tap the icon to call, message, email etc

I thought Google were the search kings?
b2
is this feature available offline, and for which version of android???