Flames Red and Rose Gold color options of the Meizu Pro 6 now official Comments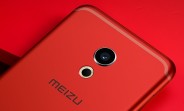 V1
Yes i agree. why manufacturers prefers white. Ask their buyers. I thinks manufacturer should listen buyers prefer black colour.
151
i think is be suitable to be called Pink Gold instead of Rose Gold.
B397
I wish there were more phones with that flaming hot red color
S17060
Red is hot, I swear! Wish it was available in my country (India).
?
the red looks really pretty. i don't like the white front, though. still cool to see a strikingly different color in the flood of gold and rose gold