The Wileyfox Spark is a new series of Cyanogen OS-powered mid-rangers Comments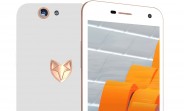 p1
Ted overlooked that the Spark+ and X have a 13MP camera. And it should be mentioned that the battery is removable. Considering that and the compact size, the Spark+ could tickle my fancy
B
was really excited when I saw the new Wileyfox in the headlines... but its a worse spec phone!!! What's the point...
R
An Owner of the Wileyfox Swift here since January.... If not for the screen getting foakd all of a sudden getting covered in grey tiny stripes.. and the power button getting less sensitive... the rest totally worth the 89$ I paid for it...
Strange to see "new" device with worse specs and higher cost.....
Also I've had just two updates so far, one when I just got the phone and the second about a month ago, Cyanogen 13 that makes my battery drain fast by wifi occasionally....
b42341
dayjin, 28 Jun 2016wait what !! 5.5" with 720p !Yup every companies increase resolution everyday but wiley decrease. Im sure their 2020 phones will have 240x320 resolution
b42341
It look like alcatel to me.plus that im sure they wont support it as well. Cyanogen always did that from oneplus one to the rest brands
11
With all the investment in Cyanogen Inc. by Microsoft, it will be interesting to see what, if any, of the Microsoft services and applications are installed in this phone by default.
?
Sid, 28 Jun 2016And they are not gonna support it at all. Leave it with all the bugs.Is CyanogenOS really that bad? I hope it will be possible to install AOSP on those phones.