Week 29 in review: Brand new Xperia F8331, and a deluge of Note7 leaks Comments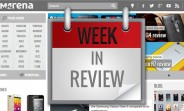 A
Gsmarena, do you have any ETA on thorough review of ZTE Axon 7?

according to ZTE USA forums, the reviewers got their phones around 10 days ago.
for sure, you are amoung them?
?
maybe i missed it who knows, but was there ever an article of when arm was bought out by softbank?