ZTE launches 'Project CSX' to crowd source ideas for a new smartphone Comments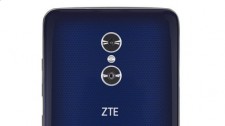 ?
They don't really "crowd source".

This is more used as an add-campaign to get US-recognition for the brand. As none o/t community idea's have been implemented nor regarded. I've read the kickstarter-page the comments from ZTE-usa are ridiculous.

The perfect example of how to abuse Kickstarter.
F them!
?
I find it funny how the top ideas are all small screen, big battery etc. Pretty much the opposite of current phones.
Y46080
You gave us a great idea! Here you go: a small cash prize! Or better yet - a huge cash prize in the form of CES ticket! And the best part - you get to PURCHASE the damn thing sooner than anyone else!

ZTE should realize CES ticket would cost more than the actual phone. Just give people the phone!
?
make phones with better ram(3,4gb) ,resanoble processor for highend gaming (snapdragon 820,821),good camera quality(21,8 mp), more in built storage (32,64gb)expandable storage,uni metal body (not copy of iphone or others) ,both front and rear flash.
Y
Would be nice if they would make project ARA competitor - everything swappable...
l
Create a competitor for Samsungs note series and squeeze the price under 500. I'll take 2% cut, thanks.
a
Just make symmetric omni-balance phone with minimal bezel.
Sdcard. Removable battery. Built-in root. Encrypted.
Done.
?
AnonD-359558, 04 Aug 2016i have an ideeaZTE can make dual-booting OS's a standard feature if this goes right. I'm not talking simply side-loaded but having an OS of your choice in tandem, out of the box. Optimization for these, out of the box, working like a charm. Also, I'd like a ticker display ala V10, flip phones were praised for that alone and there is no excuse to not have any more phones with a secondary ticker. A camera that flips up for selfies. Or, how about a physical keyboard case packed in on all memory variants?