Report says Windows 10 Mobile Anniversary Update will begin rolling August 9 Comments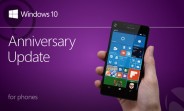 A
Just like the OS popularity, there are very fewer comments on the topic as whole. One thing for sure, windows phone 8.1 when it came out was equivalent to android in features if not apps. It should have taken off weel, if not for microsoft plans for services strategy. providding all ms apps in all the platforms is a wise move in the long run. In short run, it just killed windows phone. windows gave iphone style performance at very affordable price. without any lags and hangs, atleast with the earlier nokia devices and earlier versions of windows phone os.
D
Well so Dona Sarkars statement on Windows Weekly was not thrue then when she sad that the anniversery update for the phones was to come at same time as the desktop Windows 10. (2 august)
But im not suprised the Phone OS have been problematic with lot of bugs and issues.