Skype will continue working on older versions of Windows Phone, Android, and iOS until early 2017 Comments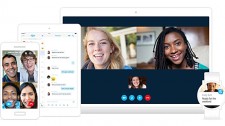 ?
Correct if I am wrong but isn't windows phone 8 and 8.1 over 50% of all windows phone/mobile out there ,so why removing support of these devices .
That is shame from Microsoft a giant in technology to even not supporting there own system or their fans.
D
If it is for remove the support of Android KitKat i guess that is a perfect stupidity. Because still there are many devices with that Android version. Like LG Optimus G.