Carrier-locked devices start getting Windows 10 Mobile Anniversary Update Comments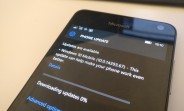 D
I think Microsoft Lumia 650 and 950 have dropped a lot in price recently. So there you can make a good deal.
But they have of course some older Snapdragon processors compared with many of the newer Android handsets. For a new up to date Windows 10 Mobile it are not a lot of option. Only the HP Elite X3 that are a big phablet and very expensive.
D
Is there any Windows phone which can give me the same level of satisfaction as a Moto G4 at the same price? I'm thinking of buying a Windows 10 device.