Upcoming HTC 10 evo (Bolt) is shown in black in new leaked press renders Comments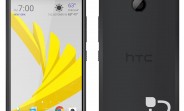 F1254280
Very nice indeed. Wish it had not creeped above 145mm. Otherwise getting too big.
Love HTC, reliable as anything on build. Looks like a beefed up A9 super.
Little things like an accent around the camera would be a nice ouch like you did with the One S. Have fun with it.