Morgan Stanley says the Google Pixel will pull $3.8 billion in revenue in 2017 Comments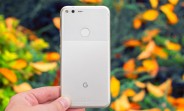 G
Only his perspective...the reality is yet to come... don't count ur chicks when the hen still not laying eggs...:D
?
Mostly due to the sky high profits they get from each device.
Google finally understood that to get profits you have to rip off the cusomers.

Still Google Pixel is of the most mediocre offerings of 2016 apart from its (excellent) cameras.
Gone are the days that only vanilla android was the only decent offering, even touchwiz has been reformed lately.

Gone are the days of constant support. Google are supporting their phones for 2 years max, even Samsung ofter surpassess that for their top models. Not to talk of Apple and Xiaomi here because it would get silly (those companies support their phones for 4 years minimum).