Latest beta update for BlackBerry DTEK50 and DTEK60 brings December security patch Comments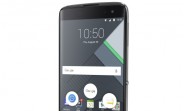 z
Sandy7033, 17 May 2018Chatge dtek 60 full and theun update I have the same problem then make format " factory default " and solve it
S
ayman, 03 Jan 2018Unable to update my Dtek 50 with the lates update. Keep getting verification error but no det... moreChatge dtek 60 full and theun update
V
I can not update my DTEK50 with the last software update. Verification failed error showed on screen. How I fix it?
a
Unable to update my Dtek 50 with the lates update. Keep getting verification error but no details. No changes were made on my end, what should I do??
L
After last update on my DTEK50, appears a crash instead of "hearings damage warning". Now a cant turn volume up with headphones. didnt find anything on internet, anyone some advices? its realy annoying!
B
Why cant we download Google maps, Uber apps etc..
Have a passport and feel shortchanged..

If any one has a solution please advise.
Thanks
D
Domo, 06 Dec 2016The dtek60 is a great phone. I don't like that it's fully android. I expected more blackberry ... moreYeah. You can only watch youtube in the background if you cast it onto the big screen. And that's something bb10 barely offers (miracast and microhdmi isn't optimized like chromecast). Love my priv, know that the dtek60 is the best all touch phablet on the market for being productive. But am still using a bb10 passport se for work. Annoys me that there's no android BlackBerry browser or filemanager that's integrated with the universal search. Next years hamburg qwerty will no doubt be one step closer to bb10's productivity. But androids user interface, web browsing and file management still needs to be fixed.
D
The dtek60 is a great phone. I don't like that it's fully android. I expected more blackberry features. YouTube was able to play in the background, but not anymore. The phone doesn't have a gallery. To view photos I have to use the Google photos app, and I don't like that. Or I have to go to my camera just to look at my photos. I was able to change and pause my music with the volume up and down keys, but not anymore. I wish I can download some blackberry apps from the blackberry app world.