9.7-inch Xiaomi Mi Pad 3 with Windows 10 leaks ahead of December 30 release Comments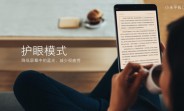 D
Let us hope that the USB-C port is the real 3.1 deal and supports video out and Ethernet.
M
I didnt read after the word "successor".

Don't buy this tablet or any product from xiaomi except powerbanks. They didn't give a *** about their customers.

They don't even make a global rom for this tablet. Just take a look to the mipad 2 section on their forum and you will see how happy and proud we are for being a mipad2 owner.