You can now save up to 17% on Google Drive storage by using annual billing Comments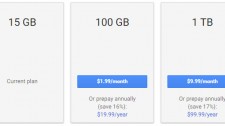 ?
Who would even trust their info, docs, pictures, etc. with Google? And why?
A10358
So i'm a photographer who has about 2.5TB of data (and growing)
One of my backup drives failed and I needed a secondary backup urgently.

After reviewing almost all the major cloud options out there: OneDrive, Google Drive, CrashPlan, BackBlaze etc... I finally settled on Amazon Cloud Drive - $59.99 and Unlimited Storage. No * or # just a plain and simple unlimited harddrive on the cloud.
E
In my country for 2 eur/month I got Office 365 installed on my devices and 1TB one drive. So google, go sleep u are drunk.
?
NO NAME, 21 Dec 2016 100 GB ? Woah ? What A Large Amount Of GB That It Had For Only $1.99/Month ? It Is Only Good... moreit says about storage man., not highspeed connection!!
385
55
I want something around 50GB, 100GB is too much for me.
I hope Google will introduce such plan.
N

100 GB ? Woah ? What A Large Amount Of GB That It Had For Only $1.99/Month ? It Is Only Good In China Where In ? China Had 5G Internet Connectivity To Avail This One Where In 1GB/Sec. ! How I Wish That Here In PH Too Will Have 5G_LTE Internet Connectivity