Samsung Galaxy S4 and Galaxy Tab 3 on T-Mobile start getting February security update Comments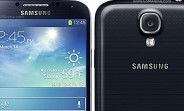 D
AnonD-632062, 10 Feb 2017Nice to the S4 still getting a security update. BTW in many regions, S4 got updated to Lollipo... morei think because it's more stable than lollipop
s
what about note 2 N-7100 model also running on 4.4.4 kitkat most of the older device are running in low version of android in samsung what about that.
D
Nice to the S4 still getting a security update. BTW in many regions, S4 got updated to Lollipop (don't know why T-Mobile is holding it back on KitKat?).
?
Dilmeet, 10 Feb 2017That's how the security updates should be implemented. One or Two Major OS update BUT at least... moreBetter than nothing :)
?
Dilmeet, 10 Feb 2017That's how the security updates should be implemented. One or Two Major OS update BUT at least... moreAgreed, just like Apple has 4-5 years update support (ok, they get also major updates and not just security, but that is impossible for android because it is too expensive for companies)
D371101
That's how the security updates should be implemented. One or Two Major OS update BUT at least 4-5 years of security update in Android world seems fair