ZUK Edge II special edition images leak showing dual rear cameras and a curved screen Comments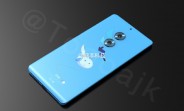 D
The design of the ZUK Edge II looks like it can rub shoulders with the flagships of 2017.
l7227
I wasn't able to buy the original one, I'm not hoping to get this one.

G
Another S6 Edge wannabe with lower quality / res screen curved on 1 orientation...
Fair enough - if you like that sort of thing.
D
ZUK Edge II is very nice phone of course in first look! after all it's has a gift for Doll!? Left side at box exact! If yes! So why doll??
P618151
Woah, that's a phone that looks pretty good for being different. Loving that blue