Energizer Energy E550LTE is a rugged smartphone with 4GB RAM and dual camera setup Comments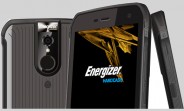 ?
Junker12315, 28 Feb 2017The processor isn't midrange though.Its entry level MediaTek crap.
J11214
funkboy, 28 Feb 2017F I N A L L Y Someone finally made a midrange IP68 phone with a The processor isn't midrange though.
17
3
Due really..i dont see people's problems with bezel...bezels are for grip..and besides we can all see that the phone is made for durability so the bezels are needed
207
30
A lot of peps talk about getting over the hype of bigger ram and in androids case its true, the ram is used differently and as such more ram to a point is better.
2502
3711
You know, that's actually a pretty decent first-time offering from a company that doesn't even primarily manufacture smartphones......
A
As a battery firm, more was expected from the battery.
Mediatek as the processor is a failure move.
The phone is nice but oh the bezels, 5.7 could easily fit in that body.

?
Anonymous, 27 Feb 2017Ok this bigger RAM marketing shit is over the top. People nowadays should realize that good SO... moreU can send in an email to tell them. Everyone knows that but it could be a cost issue and besides they can come out with the same SoC and 2GB ram but they are giving you 4GB so why complain.
A
Better go SD625. same processor count and speed (8x2.0 GHz) and FAR BETTER preformance!
?
Ok this bigger RAM marketing shit is over the top. People nowadays should realize that good SOC is more important than RAM size, please stop this high RAM + lousy SOC combination practices.
M
Hotkolbas, 27 Feb 2017For a battery company I would have thought they would think inside the box for them and pump u... moreSame here. The battery would be the main feature. The only advantage over the Chinese brand phones is the warranty. This phone reminds me of AGM X1.
921
689
MediaTek!? Goodbye!