Samsung may not be able to churn out enough chipsets for the Galaxy S8 Comments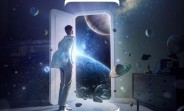 3836
1292
Yeah, yeah... typical samsung marketing stunts.
"We wont be able to satisfy the demand... "
Sell that story to someone else, cause you wont be selling as much...
O81599
If they can't source enough SoCs then that means the price might be even higher than leaks. That will be a big deal breaker for many persons who were contemplating due to the high price. Let's see what happens tomorrow.