Analyst: Galaxy Note8 will have dual cameras, one wide-angle + one telephoto Comments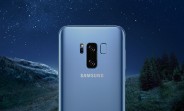 R51672
Are we seeing LG's approach on dual cams in future phones?
Xiaomi is also now using the same approach with that of iPhone 7....

I feel this kind of approach is useless as it never uses BOTH lenses at the same time like that of Huawei's. It is quite useless to use one hardware over the other but not BOTH.
S941854
That's a lazy shop edit...