Amazonís Alexa will soon speak more human-like by pausing for breath and whispering Comments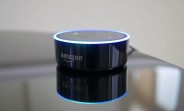 D
Zoks, 28 Apr 2017Q: Alexa, would you lie to me?' A: 'I always try to tell the truth'. Q: 'what is the CIA?' ... moreQ: OK Google, would you lie to me?'
A: 'I always try to tell the truth'.
Q: 'what is the CIA?'
A: 'the United States Central Intelligence Agency, CIA
Q: Are you connected to the CIA?'
A: Always! And also to the NSA, and many other spying agencies! I also love your Android!
:-)
P58731809
Yeah, need to get rid of robotic voice like the one in Google's.
A56283556
I want the ability of using any superstar to sound as my assistant. Maybe like Vin Diesel, Leonardo DiCaprio, etc.
t2893325
Slowly, but gradually always getting a little bit more better than before.
Z
Q: Alexa, would you lie to me?'
A: 'I always try to tell the truth'.
Q: 'what is the CIA?'
A: 'the Unites States Central Intelligence Agency, CIA
Q: Are you connected to the CIA?'
A: ..... ... ....
:-)
D
Looking forward to Amazon's Alexa to speak profanity words as well.