Apple announces watchOS 4 with new watchfaces, improved Workouts, and more Comments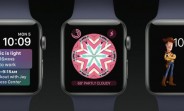 e
I will wait for the Iphone 8 ( Iphone 7 is not worth the money) to come out and buy a Hermes Apple Watch at the same time.. These updates for the watchos is worth the money..
D
Does the Toy Story watchface enable laser beams from the iWatch like Buzz Lightyear! :P
S22369
Anonymous, 06 Jun 2017WatchOS 4 is the most latest update with the most feature packed features we have ever created... moreIt's not 3 watchfaces only. Seamless connection to major fitness equipments (cue gym rat consumers) and UI overhaul (cue average consumers) are the other two features Apple delivered to masses. As for the others, it's under the hood mostly for developers considering the very purpose of the event is mainly developer first, consumer second.

Don't flame. Flaming doesn't give you likes from objective people, only from trolls. Read the whole report of the events first, then give objective thoughts. I bet you didn't watch the event nor read the whole reports, only read this headline then straight to comment.
D
These smartwatches are a waste of money anyway. Even to producer doesnt want to invest in the product, why should anyone else?