Unlocked Galaxy S8 and S8+ are already almost $100 cheaper in the US through open box deals Comments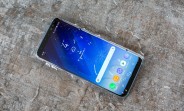 V
Hello,
Do you do delivery to Canada, if yes how many days need to reach to Toronto. Should I pay taxes in Canada after USA
Does unlocked Galaxy 8, 8+ work in India
Thanks
Vilas
D
open box is used as far as i'm concerned. what's interesting is that there's such a surplus of returns that they have to advertise it here. s8 = massive fail.
T2894326
Well, if to call it just an "open box" (like that no one had ever messed up with) or as second hand, and so that definitely it's not new, it depends on one's perspective, etc. But the way that I see it, for just $87 or $99 less respectively, I would rather buy it completely new and at least have a slightly more peace of mind.
a
people bought s8. they're not using it yet. post it on bestbuy. in don't get it.