OnePlus 5 has good chance of surviving in water, just don't try it at home Comments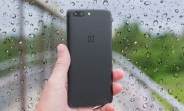 O
Oneplus 5 water damaged and dead in less than a month. What a shame. A phone which doesn't even provide any resistance in the internals of the phone.
.
Working after a dip in water doesn't equal surviving. The phone have no water resistance features and any dip means water will get in. If you are lucky, the corrosion on contacts will affect functionality but doesn't mean it will work indefinitely.
?
i wouldnt go anywhere near water on a phone with no IP protection, then u need a case that can seal the phone, shame it didnt have when even LG put that on their flagship,,
2764
298
Haha yeah.
B30511467
This shouldn't even have cost $500.

Old Xperia flagships and the S7/S7 Edge are cheaper but IP58 to IP68 certified.
Heck, Galaxy A 2017 series even have this thing.
I don't mind no certification, but they should've tried to make it secretly water resistant, just like the Xperia X.