Lenovo shows off concept flexible phone, AI assistant, smart projector and more Comments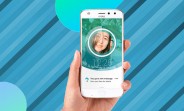 ?
Anonymous, 20 Jul 2017Copied from Apple. On behalf of fruit fans. :DApple copied from?
T2894326
For the next step forward.
D
A smartphone that flexible strapping across the wrist as a watch would, once feasible, pretty much be the death of a dedicated smart-watch. Have that phone expand and it could be the death of tablets.

Expect someone like Steve Jobs to introduce the next innovative smart-phone to the world as a smart-watch, a smart-phone and a tablet all in one.
D
AnonD-510098, 20 Jul 2017All useless tech...Idk. A phone that acts like a slap-bracelet and wraps around your wrist to be a watch is pretty much the future of smart watches. Getting there takes small steps, and that is the biggest step I've seen.
?
Lol most likely motorola is the inventor, all new idea: motorola ara, first phone connect pc without CD driver, finger print, deep stereo bass rokr, laptop dock and many more create by Motorola engineer. In engineering class room engineer study Motorola chip not apple
?
AnonD-632062, 20 Jul 2017Cool! They should have named the flexible device CPlusPlus! :PThat will be the version that covers your whole arm.
It will be ARM based C++
;)

ADVERTISEMENTS