Four Alcatel phones leak ahead of IFA: Alcatel A7 XL, A3 Plus and U5 HD Comments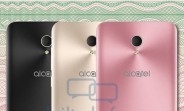 L3
Before, Alcatel is quite called "Favorite" when it comes to midrange & budget friendly phones but suddenly they've gone on the spotlight when after sales service problems comes in "Flash Plus 2" (which is a great phone) which is known to be their flagship phone that time although Flash Plus 2 was no longer alcatel in terms of service. So let's see and let's hope for the best this time for Alcatel.
s439
The Alcatel A7 XL looks promising if its much better than the alcatel pixi 4 6 inch 4g model and the price is cheap!!!
65
10
Too bad Alcatel is a cheap smartphone model. They could surprise us with a decent flagship, they have been into phones for ages.