Google Home Mini updated to stop it from accidentally recording everything Comments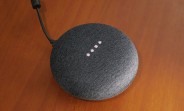 D
Accidents like these are happening at an alarming rate these days..... Glad i never had urge to buy one of these.
?
Anonymous, 11 Oct 2017Excellent I purchase and they spy! Im a big fool!An excellent one of a kind offer from Google. Order now and they guarantee 24/7 free spying services just for your own convenience.
V1817270
"Accident" lol, to have those devices at home just invites Google to own your home :)
n584109
It supposed to record and send to the US government in stealth mode.
c
say hello to the US goverment,they will save some money from a spy devices