Samsung Galaxy Tab Active 2 debuts with rugged body, mid-range specs Comments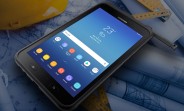 D
IP68 protection & MIL-STD certification and it has a removable battery and a 3.5 mm headphone jack.

Stereo speakers, Type-C slot, S-Pen, SD card slot, Fingerprint scanner, Compact 8 inch tablet, perfect 16:10 ratio, Power-efficient 14nm chipset combined with 1280*800 res screen means battery life will be amazing.

You even get a 8 MP autofocus camera on the back + 5 MP front-facing for those video-conferencing calls.

I love this rugged tablet that has these old-school specs. Awesome....
?
Nechan, 16 Oct 2017500 euro for 1280 x 800?? Why samsung? Even phone nowdays made by samsung have 1080p for under... moreHow many of those sub-500 euro 1080p samsung phones are rugged?
D
1280 x 800 ? Mid Range ?
That should be Entry Level Specs for a Tablet.
500 euro is also way above a mid range price.
?
They've been releasing 8" tablets with that resolution and storage since 2013. They complain that no one's buying tablets but they give no incentives to upgrade. Who wants a tablet that doesn't allow you to enjoy full HD video??
D
Well, because this is not a device typically built for average consumers, although I am one of the average consumers who has been waiting for this for very long, business users usually don't mind throwing a lot of money on crappy specs.
?
IP68. Removable battery.

So, what were you idiots that were talking about when you said sealed batteries are needed for water protection?
A
I don't find the price justified, but that's my opinion. I think they priced it so high because it's rugged.
8
800 x 1280 pixels is rubbish and we waited 3 years for this. I'll wait for the Tab Active 3 in 2020. Surely by then the resolution will increase to 1200 x 1920.
N5910
500 euro for 1280 x 800?? Why samsung? Even phone nowdays made by samsung have 1080p for under 300 usd
M32571
Good specs for any tablet these days. I'm glad Samsung is stepping up their game!
ADVERTISEMENTS