Samsung Connect Tag has 1 week of battery, helps you track what's important Comments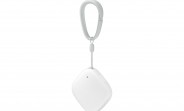 ?
"It can connect to Wi-Fi and GPS and works with smart home appliances. It's made to work with Internet of Things devices."

Why would i wanna connect the tracker to home appliances? Afraid someone may steal my fridge or kettle?