LG G6, G6+, Q6, and X charge are now Amazon Prime Exclusive phones, cheaper with ads Comments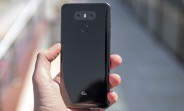 T1610248
AnonD-392500, 27 Oct 2017400 bugs? What bugs? Lady bugs? Lice.
T2894326
Not bad for those willing and eligible.
D
AnonD-392500, 27 Oct 2017400 bugs? What bugs? Lady bugs?LOL I think he meant bucks.
D
Tox, 26 Oct 2017Is a very good phone ! Honestly priced under 500, even under 400 bugs !400 bugs? What bugs? Lady bugs?
T1610248
I've been eyeing the G6 Plus for months now. Both Ebay and Amazon vendors during this time were selling it starting at 596$. I read a customer review on Amazon stating that in the U.S., it did not come with a warranty because it was an "international model". I emailed LG USA to find out whether or not units sold on Amazon and Ebay would be covered under warranty. They responded about two weeks later, saying that they appreciated my interest in the G6 Plus, and would notify me if they begin to sell it in the U.S.
That obviously doesn't relate to warranty coverage. So, I called LG USA on the phone to ask about warranty coverage on the G6 Plus in the United States.
After a brief hold, I talked to a operator. He told me that the G6 Plus wasn't sold in the States, and was only available as an international model presently, so it had no warranty coverage.
Both my LG email exchange and phone called took place last month.
My advice to everyone: make sure that you have warranty coverage where you live before buying the G6 Plus.
?
The ads thing being pumped everywhere, strikes my last fuxxing nerve
?
LG can't even sell their phones so they team up with Amazon lol maybe stop trying to be like Samsung and have your own identity
k
Thanks but NO Thanks Amazon Prime
completely Unlocked is the only way I role
D
Jesus Christ,your kidding,who wants more annoying adds on there device, can't these mobile makers offer a better insentive than this,no wonder LG going down hill, shameful to say the least !
?
Anonymous, 26 Oct 2017LG Q6 is still too expensive Not even worth it will get used G6 in excellent condition for that price.
ADVERTISEMENTS