Measuring the bezels of the iPhone X - can Apple win the bezel-less war? Comments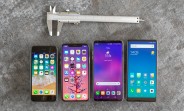 ?
That is nice. I would have liked razor-thin side bezels, but you can't have everything. Maybe next year, together with removing the notch :)
s1003414
The X's design is the smartest out of all of them. The notch is a subjective matter. Personally I think it looks good and futuristic, but when watching video or browsing the web in landscape, it can be pretty annoying. Overall I don't think I'd mind it if I owned the phone. In any case, with the amount of tech packed into the front of the iPhone X, the amount of bezels there is extremely impressive.