Alleged Xiaomi Mi Mix 2s handled on video - uses iPhone X-style gestures, of course Comments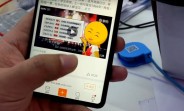 D184
So far it looks gorgeous and snappy! February 25th can't come any closer!!!
Z24317
Sonu4678, 17 Feb 2018These brands are so obsessed over iPhone. They should beg Apple to let them use iOS instead. P... moreTheir is so much MiUI futures that whare originally incorporated there and afterwards added to the both iOS and Android but no one is debating about that.
What did Apple ever actually invented? Windows alike based OS? Nope Steve stole that one. OSX? Nope it's BSD derivate.
The original message when Macintosh whose released whose "We will set you free" in the meantime they are successfully setting free your wallets pouting them on diet but who knows me by that is healthy for the consumer's. Luckily they are so brainwashed and have no wish nor ability to critical think nor know what freedom really is they just eat what ever is bean served & if by some chance some of them begin to wander how that what they are getting ain't all that good Apple simply says how it knows better for them. Naturally it's all good as long as this feels Apple pockets.